Description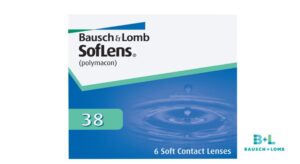 The Bausch + Lomb SofLens 38 contact lens is indicated for the correction of nearsightedness (myopia) and farsightedness (hyperopia). Your eye care professional may recommend SofLens 38 as daily wear or extended wear from 1 to 7 days between removals (for cleaning and disinfection or disposal of the lens). SofLens 38 contact lenses combine performance with a time-tested, deposit-resistant lens material that provides crisp, clear
vision, and comfort.
The visibility tint and an inversion indicator may help make the SofLens 38 lens easy to handle and insert.
DISCLAIMER: We always recommend getting your routine eye check-up at least once every year to ensure that your prescription is updated and that you have optimum eye health and happiness when wearing glasses and contact lenses! If you experience itchy, redness and or irritation discontinue use and see your eye doctor right away. In some cases, some people have built a resistance to irritation from contact lens wear. For the best ocular health, have your eyes checked properly at least once a year
Product Sizes:
Diameter: 14.0
Base Curve: 8.7
Color: clear
Quantity Per Box: 6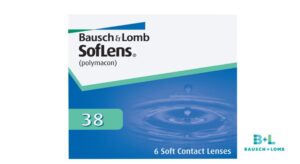 Additional information
| | |
| --- | --- |
| Quantity - Right eye | 0, 1, 2, 3, 4, 5, 6 |
| Quantity - Left eye | 0, 1, 2, 3, 4, 5, 6 |