Send us YOUR Frame and Save Even More!
Ship, Replace, SAVE MONEY!
To insure the accuracy, speed, and validity of your prescription request we require an image copy of your current prescription. Simply take a photo/image and click the upload image button. This image will automatically attach itself to your order. Click how many boxes you would like for each eye. If there are any issues with your request, a team member/optician will reach out to you the next business day via phone, text, or email.
Description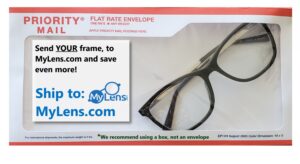 Replacing the lenses in your own frame just got a whole lot easier! Once received, we will treat your eyewear with the utmost care and respect. Simply: Send us your frame with a copy of the invoice at the end, and we will replace the worn lenses with your new prescription!
Our Opticians are just as happy to make you a new pair as we are repurposing your own frame! We realize that it's just not possible to carry every frame on planet earth, and sometimes we find ourselves partial to a particular style of frame. Please note** we will treat your personal eyeglasses with as much care and respect as possible! (some frames will fatigue and get brittle with age, environment, wear, and manufacturing inconsistencies)   In the event the frame should break during shipping or processing, we may not be held responsible.
After carful completion and inspection of your order, they will be placed in a hard case (if possible) inside a durable box along with a case, cloth and cleaner. Send us YOUR Frame and Save Even More!
Shipping:             Free shipping anywhere in the continental US.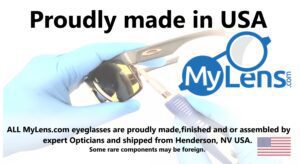 Do you have a frame you would like to use?
Additional information
| | |
| --- | --- |
| Use My Frame! | Sending my own frame. |