Acuvue Vita for Astigmatism 6 Pack
MSRP $89
Buy 4 and pay only $59 Pr. Box
Description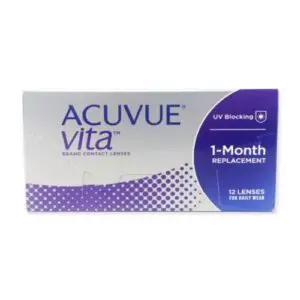 Manufacturer's Description:
ACUVUE® VITA® with HydraMax™ Technology is a monthly lens for patients who want a full month of comfortable wear from their lenses. It has a new, non-coated silicone hydrogel formulation balanced to help maximize and maintain hydration throughout the lens – providing reliable, superior overall comfort all month long.
Patient ratings for ACUVUE® VITA® were superior for "Overall Comfort" at weeks 1, 2,3, and 4 compared to all other leading monthly brands.
In addition to comfort, patient ratings for ACUVUE® VITA® were superior for "Overall Quality of Vision" among leading monthly lenses.
ACUVUE® VITA® the ONLY monthly lens with Class 1 UV Blocking.
INFINITY EDGE™ Design – A smooth, tapered edge profile and minimal edge height add yet another dimension of comfort.
Don't forget the cleaner and replace your lens case every 30 days. "Dirty after 30!"
Our Thoughts About Acuvue: This brand is serious about ocular health and all day comfort. Whether you are fitted with 1-day, 2 week or monthly contact lenses, you will be glad your doctor chose Acuvue by Johnson and Johnson.
What you should know: A routine eye check-up at least once every year is recommended to ensure that your prescription is updated and that you have optimum eye health. If you experience itchy, redness and or irritation discontinue use and see your eye doctor right away. In some cases, some people have built a resistance to irritation from contact lens wear. For the best ocular health, have your eyes checked properly at least yearly. By purchasing from MyLens.com you attest that you are providing a current and valid prescription. You further agree to the terms and conditions. If you do not wish to have virtual assistance, simply drop us an email. We are proud to offer VERY competitive prices on all of our contacts. Your repeat business is greatly appreciated!
 Quantity Per Box: 6
Sizes:
Diameter: 14.5
Base Curve: 8.6
Color: clear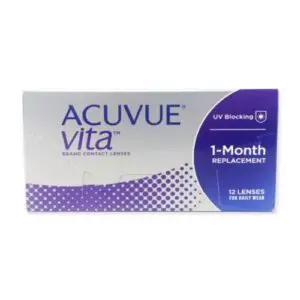 Additional information
| | |
| --- | --- |
| Quantity - Right eye | 0, 1, 2 |
| Quantity - Left eye | 0, 1, 2 |